Home Buyers
What to Know Before Purchasing a Waterfront Property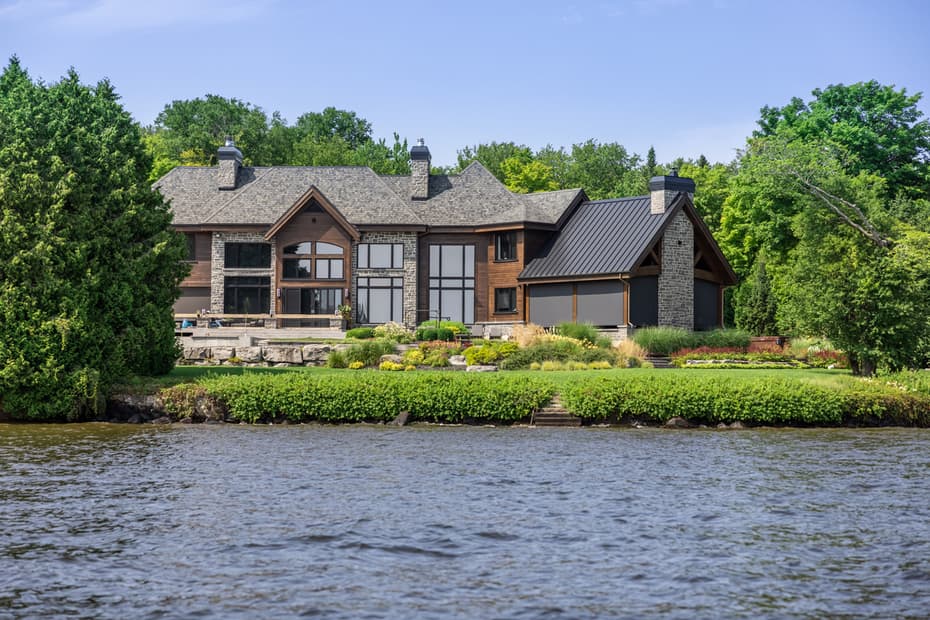 It's no secret that humans have an affinity for water, and waterfront homes entice us like no other. Waterfront homes feel like a dream with the added recreations and tranquil sunrises. Before you spend extra on a waterfront property, let's take a look at the pros and cons.
First, Let's Talk Waterfront
When hunting for waterfront properties, it's important to pay attention to the listing description. For example, many homes listed are labeled "waterfront views," which could mean just about anything. You want to be sure that the water associated with the property is usable and not simply a retention pond.
Be clear with your agent and tell them what you plan to do with the property. For example, if you have a boat, let your agent know how deep you need the water, dock appearance desires, and boat lift needs. Also, be aware of the possible restrictions different bodies of water have. Ask questions like:
Am I permitted to build out into the water and how far?
Are water vehicles, such as jet skis, permitted? Which ones?
Can I fish here? What are the seasonal/time/keeping restrictions?
Can I use a boat? What are the boat size and speed limitations?
Inspect the Seawall
Most waterfront properties have a seawall or bulkhead to prevent flooding. You'll want to inquire about the age and composition and request inspection after putting an offer on the home. Seawalls are a critical element in property safety, so if the wall needs work, request that the owner make repairs.
The Pros of a Waterfront Property
A Healthier Life
Waterfront homes offer an entirely new land of opportunities, especially relating to hobbies, leisure activities, and water sports. Also, to most, water serves as a relaxing view and adds beauty to your everyday life. With more activities, homeowners living on the water are generally more active, enhancing their physical and mental health. Also, waterfront homeowners tend to have higher vitamin D levels, improved social interactions, and a better sense of mindfulness.
Scarcity is Security
Because waterfront homes always remain a hot commodity, their prices tend to grow in value and are less prone to market turndowns. Scarcity is security; the less there is, the stronger the demand. We are constantly expanding cities, not waterways. So there will always be higher demand than supply for waterfront properties.
Financial Benefits
In addition to higher value prices, waterfront properties can serve as rentals with elevated nightly rates. According to VRBO, in Tampa, Florida, a three-bedroom, two-bathroom waterfront home brings in around $367 per night, while a landlocked home with the same features only brings in about $120 per night.
Lasting Beauty
Unlike properties in and around bustling cities, waterfront homes will always have that idyllic view. As a result, waterfront homes are often used as legacy homes to pass down through generations. They are also perfect for vacations, holidays, and family get-togethers.
The Cons of a Waterfront Property
Extra Costs
On average, waterfront properties cost 46% more than inland homes, with many surpassing that percentage. For example, in Jacksonville, Florida, buyers pay 72% more to live on the water. Unfortunately, with higher value prices comes higher taxes. Waterfront homeowners need to attain more insurance to cover flood and storm risks. However, not all insurance companies insure waterfront properties, or they may require extra premiums. Typically, floods are not covered in standard insurance policies, so you must obtain additional coverage, especially when applying for a mortgage. Additionally, waterfront properties may have less accessible utilities. You may need a well or septic tank, which can send plumbing costs up to $398, on average.
Higher Risks
Living near water always elevates the risks of flooding, wind damage, and erosion, especially oceanfront properties. So before you buy, take a look at the FEMA flood map to learn possible dangers of the area you're looking to settle. Again, a seawall inspection is vital before making any concrete decisions.
More Maintenance
Areas near the water have increased exposure to humidity, water, salt for beachfront properties, and wind. As a result, HVAC systems are highly susceptible to water damage, which cuts their lifespan in half. Be aware of these extra maintenance costs when looking for a waterfront property.
The Bottom Line
Waterfront properties offer picturesque views, endless activities, and even physical benefits. However, they also come with higher prices and property damage risks. Be knowledgeable and consider the above factors before settling on your forever home.
If you're considering purchasing a waterfront property, connect with one a HomeHunt agent today!