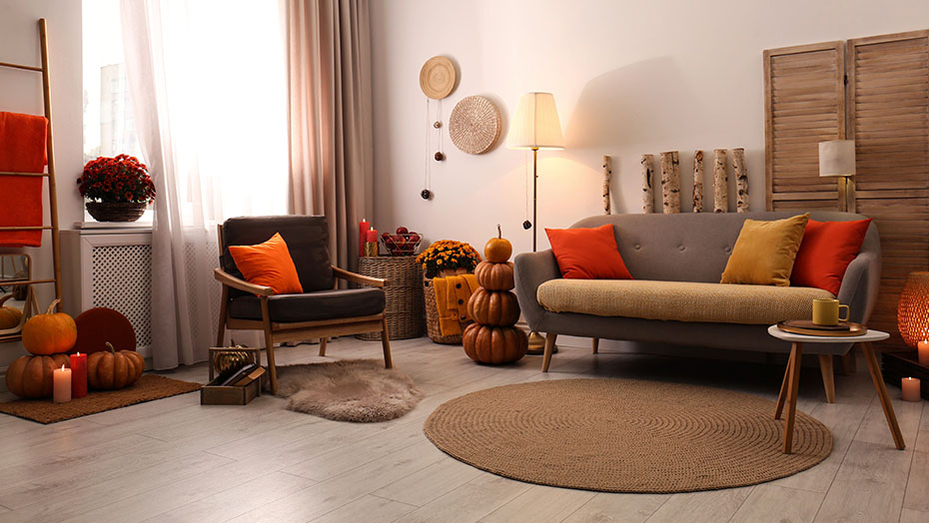 Unique Ways to Bring the Fall Season Inside
Whether you're planning to sell or just want to spruce up your living space, decorations are a great element to add charm and personality to your home. As we enter the fall season, warm colors, cozy blankets, and statement pillows can really enhance your space. Here are some fun ways to (pumpkin) spice up your living space.
Declutter Your Living Space
The first step to enhancing your home is to rid rooms of miscellaneous items. It's much easier to work with a blank canvas rather than an already busy space. This step is even more critical if you have upcoming house showings.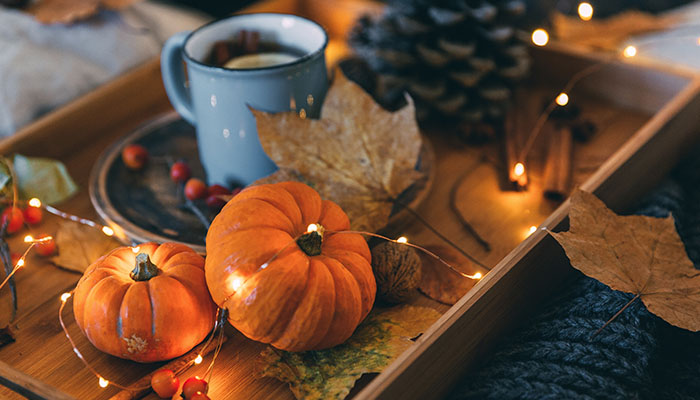 Rearrange Your Living Space Furniture
One of the easiest ways to update your space is by changing the layout of a room. For a formal look, face chairs and sofas towards each other. Position the coffee table between seating to create a conversational environment.
Coffee Table Display
Coffee tables invite conversation and leisure. A fall-inspired display can be a perfect way to revamp your living space. Some seasonal decorations for a coffee table include wicker baskets with tiny pumpkins, orange and yellow floral arrangements, candles, books, and a plaid table runner. Be careful not to over-decorate as this may create a distracting centerpiece.
Mantel Display
Mantels are often overlooked as displays, but a themed mantel can add character to a room. Try placing fake leaves, candles, and vases containing wheat sprigs or colorful branches. You may even be able to find small branches in your backyard. If you're looking to open up a space, an ovular mirror above the mantel could do the trick. For fall, surround the mirror with leaves and pinecones.
Pillows and Throw Blankets
Easy and affordable fall decorations include pillows and blankets. Plus, you can use them when snuggling up with a hot apple cider. If you have white or creme couches, try burnt-orange pillows as statement pieces. To add some texture, try pillows made from rugged materials, such as coffee bags or handwoven cases. Embroidered pillows can also add texture while displaying a cute fall image. Throw blankets, like pillows, can also be used to add additional color and texture. Try a plaid blanket made of wool or woven yarn.
Neutral Fall Decoration Ideas
Whether you enjoy more modern decor or are simply burnt out on burnt-orange, a neutral palette may be for you. Earthy green is a perfect neutral color for a living room with lighter features. Items with multiple shades of neutral green help add dimension to your living space. You can also pair the greens with soft browns and cremes. If you have a desired color palette in mind, your living room will appear much more cohesive and elegant if you keep those colors in mind while you are shopping.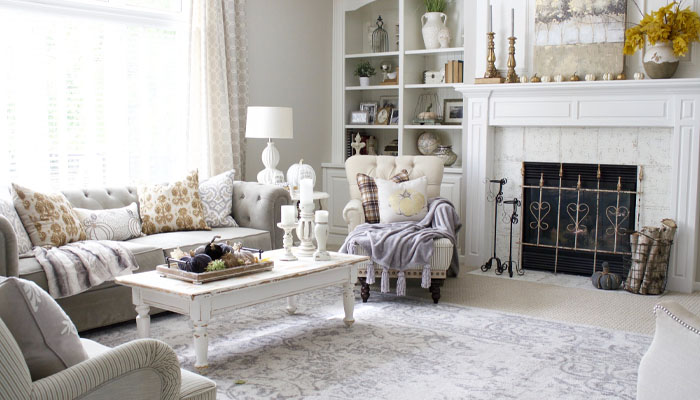 DIY Decor
DIY decorations are not only fun but they can even save you money. Here are a few DIY fall decorations that are sure to impress:
DIY Flannel Pillow: If you sew, try using an old flannel shirt to create a soft and colorful case for couch pillows.
Painted Pumpkins: Maybe you grabbed a few too many little pumpkins from the patch; no need to worry! Grab some paints and have fun. Try colors like gold, white, green, and yellow. Get creative with patterned stencils.
Painted Mason Jar Vases: There's nothing like canning homemade apple pie filling in a classic mason jar. Grab some extra jars, paint them muted colors, and drop in a few faux flowers and wheat sprigs.
DIY Wreath: Wreaths have become a year-round decoration and are simple to make at home. Start with a color scheme, then pick elements like leaves, pinecones, dried corn, acorns, and ribbon.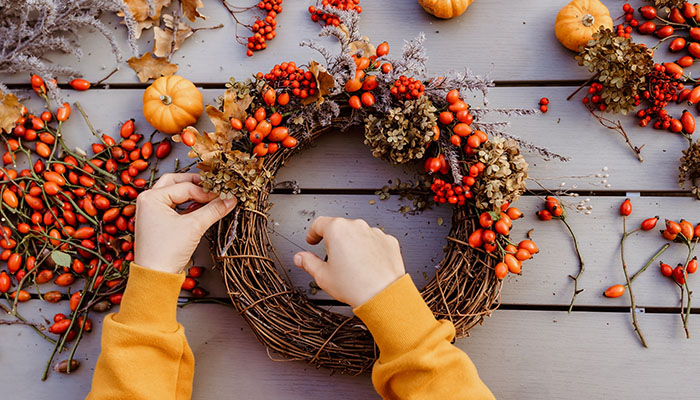 Don't Forget the Spice!
Autumn air is crisp, earthy, and sweet. So bring those scents indoors with fall-inspired candles, potpourri, and your own delicious baking. For sellers who want to impress during the fall season, these simple changes can go a long way for potential buyers. For more staging tips that will help your home sell this fall season, contact HomeHunt today!