Homeowner's Spring Checklist
Beautify Your Home For Warmer Weather
Spring is in the air and it's time to get to work. From in-door to out-door, use our complete homeowner's spring cleaning checklist to get your space shining.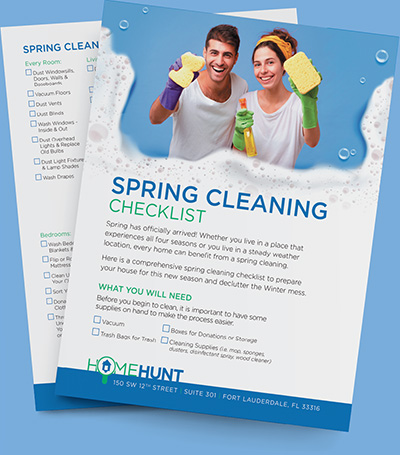 HomeHunt's Spring Cleaning Checklist
The birds are chirping, the sun is out, and the leaves are green—It's officially springtime, and that means spring cleaning! Spring cleaning is a great way for you and your family to maintain a neat, orderly home, as well as stay on top of important maintenance tasks. If you're unsure where to start, don't worry! Our free Spring Cleaning Checklist will do the decision-making for you to facilitate an effective spring cleaning process that you can repeat for years to come.
Download our Spring Cleaning Checklist to:
Gain access to a complete list of cleaning tasks for your home and garage.
Organize a spring cleaning routine to be more efficient and successful in your efforts.
Become proactive to keep your house in shape all year.