Homeowner's Fall Checklist
Get Your Home Winter Ready
Depending on where you live, taking care of your home in the fall can look pretty different. Here are a few ways to make sure you keep your home in tip-top shape no matter what winter may bring.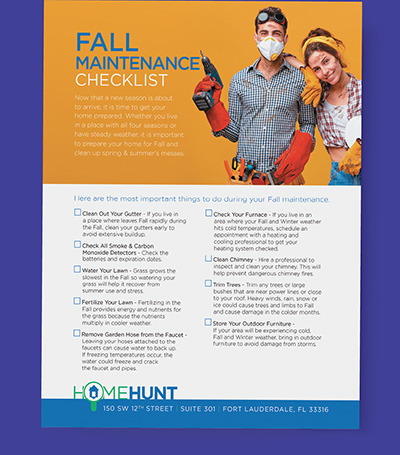 HomeHunt's Fall Maintenance Checklist
Fall is an exciting time as temperatures drop, leaves change color, and pumpkins emerge. To prepare your home for the fall season, you'll need to rid your property of what the warmer seasons left behind. HomeHunt can help you make this transition into the fall season easy and stress‑free!
Our downloadable Fall Maintenance Checklist will:
Allow you to check off items for both the interior and exterior of your home.
Anticipate how the changing seasons will affect your landscaping.
Provide tips for keeping up with home maintenance throughout the season.
The colder seasons present harsh conditions that can lead to future issues and repairs. Don't let that happen! Use our free checklist to prepare for and enjoy the fall season.