Home Seller's Checklist
Prepare to Sell Your Home
Getting your home ready to hit the market takes time and preparation. Don't miss a step with our detailed guide on how to get your home ready to sell!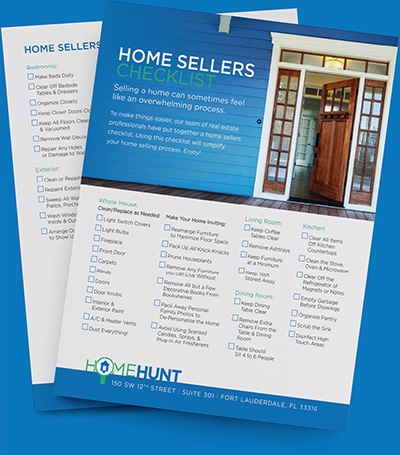 HomeHunt's Home Seller's Checklist
Do you know all the steps needed to get your house ready to sell? Each room should be clean and welcoming for potential buyers, but certain rooms call for more stringent details. Sometimes, preparing to sell your home can be overwhelming, but HomeHunt can help!
Our Home Seller's Checklist easily provides simple tasks you may have forgotten when originally cleaning. With the added pressure of trying to sell your home, ease some of the stress by downloading our free checklist.
This checklist will:
Make it easy for you to check off each task as you go through your house, garage, and exterior.
Identify maintenance duties in each room to ensure you covered all areas, appliances, and fixtures.
Provide suggestions on how to make your home more inviting.